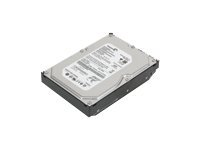 Informasjon

8 MB adaptive buffer
Less than 8.5 ms typical average read seek time
Serial ATA interface capability enabling up to 300 MB/s instantaneous interface data transfers
S.M.A.R.T. included
Slim, one-inch-high profile

Improve productivity for selected ThinkCentre systems with the new ThinkCentre 500GB Serial ATA Hard Disk Drive. Its 300 MB/sec instantaneous data transfer rate is a 50% improvement over previous S-ATA technology. The drive features S.M.A.R.T., which can warn of predictable impending drive failure. S.M.A.R.T. is compatible with Rescue and Recovery software, a ThinkVantage technology available separately, which can perform unattended backup of customer data from the drive before failure. Drives predicting failure within the limited warranty period are eligible for warranty replacement. The drive assumes the warranty terms of the ThinkCentre system in which it is installed, making it potentially eligible for on-site service for up to three years.