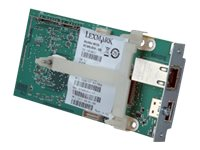 Informasjon

Network communications security
Network protocol support
Embedded web page

MarkNet print servers and the standard Ethernet connection support these protocols: TCP/IP IPV4, TCP/IP IPv6, Novell (IPX/SPX including NetWare Directory Services), AppleTalk and LexLink (DLC/LLC). All protocols can be active simultaneously. Simultaneous protocol support allows you to print from different systems without reconfiguring the print server.