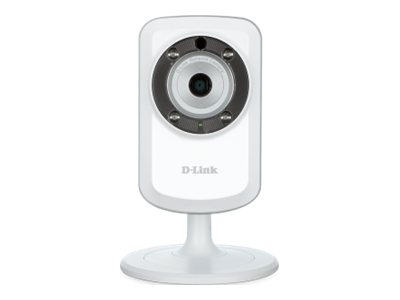 Informasjon

Keep an eye on what matters most
Extend your wireless network
Zero configurations

The DCS-933L Day/Night Cloud Camera is a versatile surveillance solution for your home or office. Unlike a standard webcam, the DCS-933L is a standalone system that can transmits high quality video images, without the need of a computer. Furthermore, the built-in wireless extender function improves your existing wireless network to give your home or office a more complete wireless coverage.

The DCS-933L is a standalone surveillance camera that can run without the need of a computer and requires no special hardware or software. When connected to the Internet, the DCS-933L can send e-mail notifications with snapshots or video clips whenever motion or sound is detected. You can choose areas of interest for motion detection or set the sound volume level for when you want to be alerted. Night time monitoring is possible with the built-in infrared LEDs which allow for night time viewing of up to 5 meters, enabling round-the-clock monitoring, even in complete darkness.

Connecting a camera to your network and accessing it has traditionally required complex configuration. mydlink Cloud Services makes it easy to access your camera from wherever you are, whenever it's convenient for you. A step-by-step guide has your camera up and running in a matter of minutes. Then via a simple website you can set up a mydlink account allowing you to view and manage your camera from any Internet connected computer. If you have more than one camera, you can add it to your existing mydlink account and watch all your cameras from a single location. Accessing your cameras on the go is easy too. Just download the free mydlink app for your iPhone, iPad or Android device and you can quickly and easily view your camera feed from anywhere with a wireless or 4G LTE/3G connection.

Not only can the DCS-933L connect via wireless N to your WPS-enabled router with a single press of a button, the extender mode can extend the range of your existing wireless network. This eliminates wireless dead spots to give your home or office a more complete wireless coverage.

Included with the DCS-933L is the free D-ViewCam software. D-ViewCam IP camera surveillance software is a comprehensive surveillance system designed to centrally manage multiple IP cameras. Supporting up to 32 IP cameras, D-ViewCam is compatible with all current D-Link IP cameras and provides digital monitoring and recording of video, audio, and events for various security applications. This software provides users with a wide array of features for added convenience, including video recording and playback, Video mode, Map mode, Wizard mode, Expert mode, Event Action, and more.