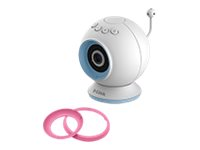 Informasjon

HD resolution (1280 x 720)
Night vision with infrared LEDs that turn on automatically when it gets dark
802.11n wireless lets you place the camera anywhere
MicroSD/SDHC card slot for recording snapshots and video triggered by motion or sound
5 different gentle lullabies built-in
Interchangeable accent color rings Intelligent Baby Monitoring
Sound detection alerts you to loud noises, such as a baby crying
Temperature sensor and indicator light informs you if the room becomes too hot or cold
Motion detection lets you know if the camera detects movement
Notifications can be sent to your mobile device for detected events
Two-way audio lets you hear your baby and allows you to respond and calm your child
Convenient control from your mobile device

Keep an eye on your little one with the EyeOn Baby Camera. This portable camera transforms your mobile device into a versatile, yet easy to use baby monitor. Connect to the camera wirelessly at home or through the Internet when you are at work, so you can check on your infant no matter where you are. It's packed with features to help you care for your child, including motion, sound, and temperature monitoring, as well as night vision, automatic snapshots and recording. It can even play gentle lullabies to help ease your baby to sleep!

The EyeOn Baby Camera is specially designed to make it easy for you to watch over your baby. You get a sharp 720p HD picture thanks to the megapixel camera sensor, and night vision mode turns on automatically when it gets dark, so you can monitor your child day or night. It's perfect for use in the home, or even when you're away; it's mydlink -enabled, which means that you can check on your baby wherever you are through the Internet. Secure wireless connection and remote access prevents unauthorized access, allowing you to securely connect to what matters most.

The EyeOn Baby Camera can send you notifications to alert you to specific events. A temperature sensor constantly monitors the room temperature, and alerts you when the room becomes too hot or too cold to ensure that your child is safe and comfortable. It can also detect movements and loud noises such as crying, and this can trigger recording of snapshots and video clips that you can view later and never miss a precious moment.

You can take the EyeOn Baby Camera with you when traveling with your child, even when there is no available Internet connection. Just connect your mobile device to the EyeOn Baby Camera's wireless network for instant local monitoring, making it perfect for family vacations or visiting friends. You can even connect it to an external USB battery1 for total portability!

Connecting a camera to your network and accessing it has traditionally required complex configuration. mydlink makes it easy to access your EyeOn Baby Camera from wherever you are, whenever it's convenient for you. Just download the free mydlink Baby App for your smartphone or tablet and you can quickly and easily view and configure your EyeOn Baby Camera from anywhere with a wireless or 4G LTE/3G connection.

Getting started is a snap; the free mydlink Baby app for iPhone, iPad, and Android mobile devices not only guides you step by step through the simple setup process, but also gives you an easy to use interface for all the useful features of the EyeOn Baby Camera. Check on your baby at a glance, pinch to zoom in and out with ease, or play one of five gentle lullabies to soothe your child. You can even take snapshots and video clips and save them directly to your mobile device!