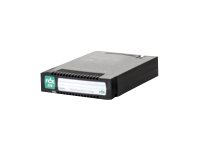 Informasjon

The flexible way to protect your business data faster and more securely
Protects your business data while respecting your business costs
Works in a broad set of small business operating environments

Sikkerhetskopiering ved hjelp av dra-og-slipp-filtilgang, som gjør sikkerhetskopieringen enkel og praktisk. Tidfestet sikkerhetskopiering støttes gjennom støtte for ledende programvare for sikkerhetskopiering. For håndfri sikkerhetskopiering bruker du HP RDX Removable Disk Backup System og HP RDX Continuous Data Protection-programvare.

Solide, portable og holdbare flyttbare diskkassetter gjør det mulig å oppbevare bedriftens kritiske sikkerhetskopidata et annet sted for katastrofegjenoppretting, arkivering eller dataoverføring.

Kassettene er spesifisert for mer enn 5 000 inn- og utlastinger, og er laget for lang forventet levetid.