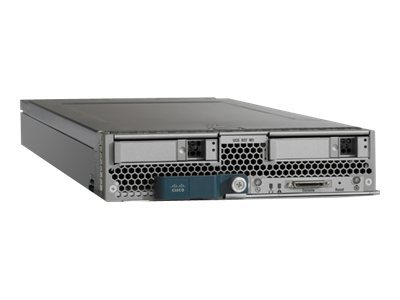 Informasjon

Decreases total cost of ownership (TCO) by reducing the number of NICs, HBAs, switches, and cables needed
Helps reduce the number of manual steps required to deploy servers in the data center, improving server policy consistency and coherency
Allows servers and support infrastructure to be provisioned in minutes instead of days, shifting IT's focus from maintenance to strategic initiatives
Reduces configuration errors significantly as blades are added or repurposed
Enables service profile movement from blade server to blade server, rack server to blade server, blade server to rack server, or blade server to blade server in another chassis
Allows use of user thresholds to optimize environmental management of the blade

This server increases compute density through more cores and cache balanced with more memory capacity and drives and faster I/O. Together these server improvements and complementary Cisco UCS system advancements deliver the best combination of features and cost efficiency to support It's diverse needs. The Cisco UCS B22 M3 Blade Server delivers a feature set with a balanced price-to-performance ratio to help enable quick deployment of scalable IT infrastructure and Web 2.0 applications.