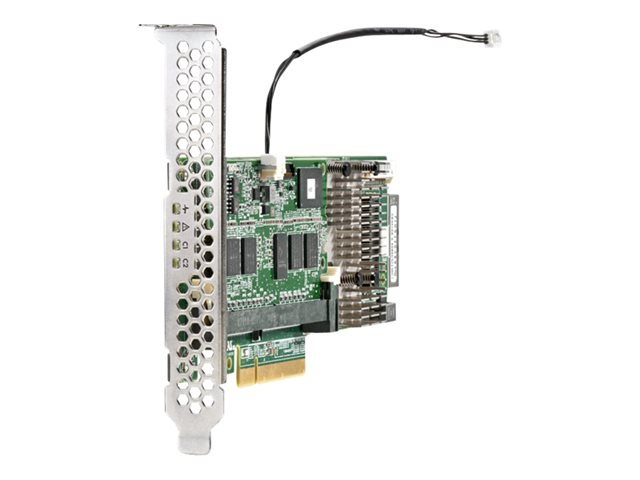 HPE Smart Array P440/4GB with FBWC
Diskkontroller - 8 Kanal - SATA 6Gb/s / SAS 12Gb/s lav profil - 12 Gbit - RAID 0, 1, 5, 6, 10, 50, 60, 1 ADM, 10 ADM - PCIe 3.0 x8 - for Apollo 4510 Gen9; ProLiant DL20 Gen9, DL560 Gen9, ML30 Gen9, XL230a Gen9, XL270d Gen9
Informasjon

PCI Express Gen3 x8 link width delivers high performance and data bandwidth up to 8GT/s theoretical maximum bandwidth
Supports legacy and UEFI boot operation on Gen9 servers
The HP SmartCache feature (HP Smart Cache license is required on P440) is a controller-based read caching solution in a DAS environment that caches the most frequently accessed data (""hot"" data) onto lower latency SSDs to dynamically accelerate application workloads
HP Secure Encryption is a Smart Array controller-based data encryption solution for ProLiant Gen9 servers that protects sensitive, mission critical data
Mix-and-match SAS and SATA hard drives lets you deploy drive technology as needed to fit your computing environment
Support for SAS tape products
Low-profile PCI Express form factor - ships with a full size and a low profile bracket for deployment flexibility based on slot availability
Power efficiency

The HP Smart Array P440 controller is a low-profile controller that provides enterprise-class storage performance, increased internal storage scalability with SAS Expander Card, and data protection for HP ProLiant Gen9 rack and tower servers. It features eight internal physical links and delivers increased server uptime by providing advanced storage functionality, including online RAID level migration between any RAID levels with flash backed write cache (FBWC), global online spare, and pre-failure warnings. This controller includes transportable FBWC allowing the data in the cache to be migrated to a new controller. The Gen9 family of controllers supports the HP Smart Storage Battery. With HP Smart Storage Battery, multiple Smart Array controllers are supported without needing additional backup power sources for each controller, resulting in simple upgrade process.