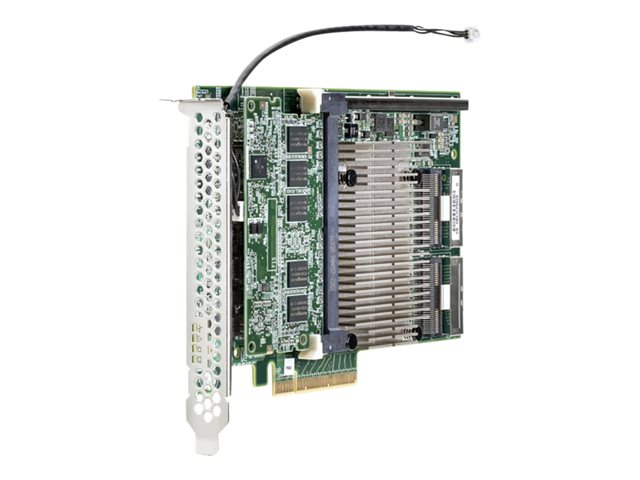 HPE Smart Array P840/4GB with FBWC
Diskkontroller - 16 Kanal - SATA 6Gb/s / SAS 12Gb/s - 12 Gbit - RAID 0, 1, 5, 6, 10, 50, 60, 1 ADM, 10 ADM - PCIe 3.0 x8 - for Apollo 4510 Gen9; ProLiant DL180 Gen9, DL380 Gen9 High Performance, DL560 Gen9 Entry
Informasjon

The P840 Controller supports up to 16 drives without need for expander card. For example
Seamless upgrades to and from other HP Smart Array controllers
Attachment to internal drive backplanes
Mix-and- match SAS and SATA drives. Deploy drive technology as needed to fit the computing environment
Capable of supporting both legacy and UEFI boot operation on Gen9 servers
Recovery ROM protects against ROM corruption
The HP SSD Smart Path feature included in the Smart Array software stack improves SSD read for all RAID levels and RAID 0 write operations by optimizing the path to each SSD attached to the controller
The HP Secure Encryption, available as an option, is a Smart Array controller-based data encryption solution for ProLiant Gen9 servers that protect sensitive, mission critical data
Power efficiency
Rapid rebuild

The HP smart array P840 controller is a full height controller that provides enterprise-class storage performance, increased internal scalability, and data protection for HP ProLiant Gen9 rack and tower servers. It features 16 internal physical links and delivers increased server uptime by providing advanced storage functionality, including online RAID level migration between any RAID levels with FBWC, global online spare, and pre-failure warning. This controller supports 16 drives without need for the SAS Expander Card providing point to point connectivity to SSDs for lower latency. This controller has transportable FBWC allowing the data in the cache to be migrated to a new controller.