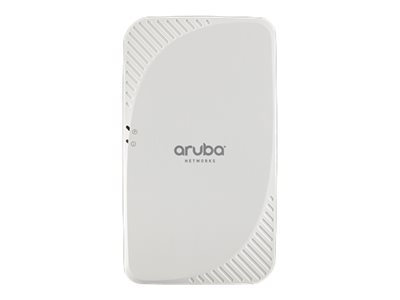 Informasjon

Adaptive Radio Management (ARM) technology automatically assigns channel and power settings, provides airtime fairness and ensures that APs stay clear of all sources of RF interference to deliver reliable high-performance WLANs
The 205H can be configured to provide part-time or dedicated air monitoring for spectrum analysis and wireless intrusion protection, VPN tunnels to extend remote locations to corporate resources, and wireless mesh connections where Ethernet drops are not available
Integrated Trusted Platform Module (TPM) for secure storage of credentials and keys
SecureJack-capable for secure tunneling of wired Ethernet traffic

The multifunctional and affordable AP-205H access point (AP) combines high-performance wireless mobility with wired Gigabit Ethernet access in a surprisingly compact device. This compact and cost-effective dual-radio AP easily mounts to a standard data wall-box and uses the existing structured cabling system to provide secure wired and wireless network access in dormitories, classrooms, hotels, medical clinics and multitenant environments.

Capable of delivering high-performance Wi-Fi services to multiple rooms, the 205H simplifies RF coverage planning and reduces WLAN deployment costs. The AP-205H is built to provide years of trouble-free operation. The integrated antennas of the 205H are optimized for the deployments with the AP mounted vertically on either a wall or desk. The antenna patterns are slightly directional, focusing RF energy to and from the area facing the front of the AP. Three local Gigabit Ethernet ports are available to securely attach wired devices to your network. One of these ports is also capable of supplying PoE power to the attached device.