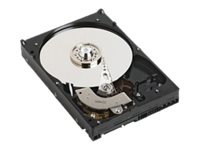 Informasjon

Offers up to 4 TB storage capacity
Equipped with Serial ATA interface which delivers high data transfer rate
7200 RPM spindle speed ensures excellent performance

Øk lagringskapasiteten for Dell-systemet med 4 TB harddisk fra Dell. Lagringskapasiteten er på opptil 4 TB, som gir brukerne plass til store mengder data. Den har Serial ATA-grensesnitt, og gir høyere dataoverføringshastighet på opptil 6 Gbps.