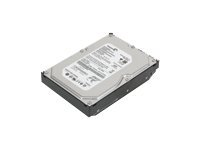 Informasjon

1 TB formatted capacity
4.17 ms average latency
Seek time of 8.2 ms typical (without command overhead)
Serial ATA interface capability enabling up to 300 MB/s instantaneous interface data transfers
Self-Monitoring, Analysis and Reporting Technology (S.M.A.R.T.) included
Slim, one-inch-high profile

Lenovo extends its line of outstanding hard drive upgrade options with the 1TB 7200 rpm Serial ATA Hard Drive for the Lenovo ThinkCentre M57/M57p eco Ultra Small Form Factor (USFF) desktop systems and the Lenovo ThinkStation S10/D10 Series workstation systems. The 300 MB/s in-stantaneous data transfer rate is a 50% improvement over previous Serial ATA technology.