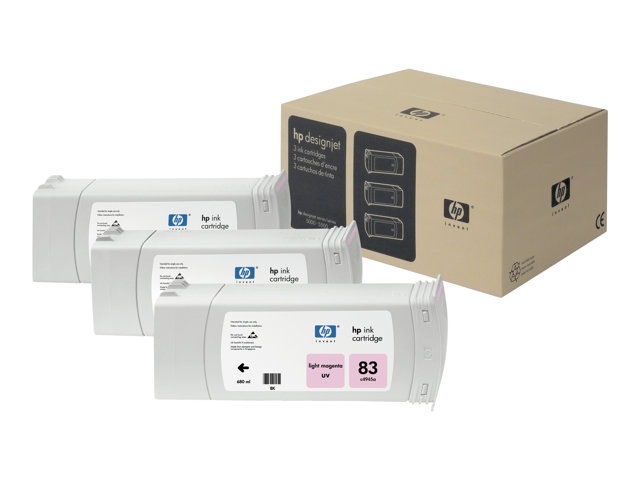 Informasjon

Unrivaled print speeds, get fast, no-compromise inkjet printing
Get fast, UV-resistant inkjet printing with HP 83 UV Printheads and HP's Jetexpress technology
Engineered for uncompromising print quality, performance and reliability

HP No. 83 UV ink cartridges and printheads are designed to work with HP Designjet 5000 (42 inch/60 inch) and HP Designjet 5000PS (42 inch/60 inch) printers. Six UV-resistant ink colors and HP's Jetexpress technology combine to help bring durability, unrivaled print speeds, and ultimate photo quality to production printing.

HP no. 83 pigment-based inks are newly formulated to deliver the most brilliant, photo-realistic images and vivid full-color graphics that are lightfast and durable, indoors and out. The two additional ink colors, light cyan and light magenta, achieve the widest color gamut and smoothest color transitions offered by HP large-format printers. HP color layering technology layers multiple drops of ink in single dots to produce brilliant color prints that are clear and sharp even close up.

Smart chips embedded in each of the HP no. 83 UV printheads track printhead wear and alert users when it is time to replace. You can monitor the status of printing supplies using the HP Designjet Web access tool, the printer display panel, or the printer dialog screen. The benefit? Consistent, high quality printing without guesswork. HP no. 83 UV ink cartridges continuously monitor ink levels so you always know how much ink is in each cartridge. This smart printing system is ideal for overnight and unattended production printing.